Tangled Up In Wool
Vicki Bennett, Feltmaker and Fiber Artist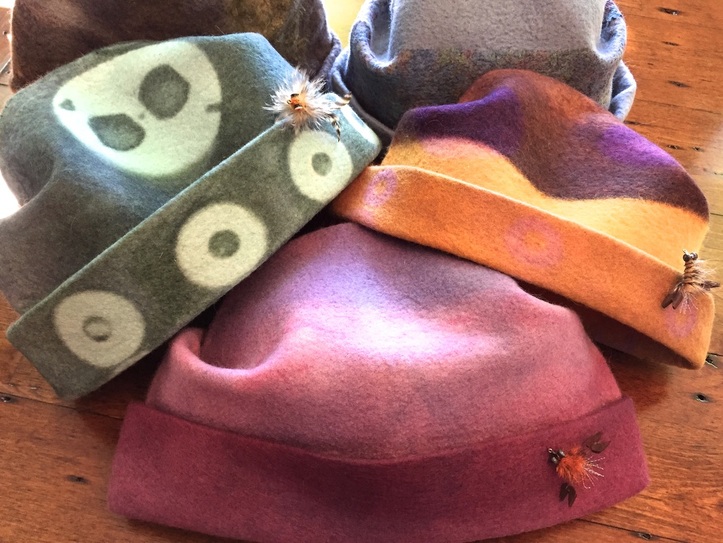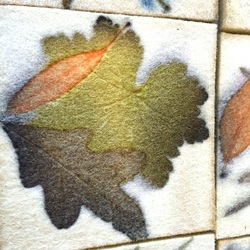 It's unseasonably warm in this week between Christmas and the new year and after an incredibly busy fall and early winter fiber season, I'm catching my breath. Southeastern Animal Fiber Fair was wild, with five classes full of happy and creative students plus our Tangled Up in Wool booth in the big new building at the WNC Ag Center- but then SAFF is always wild. So much work, so much wool, so much fun. Every year before the opening hour, I'm thinking "really?" and every year we end on a high note, so happy to be a part of this great annual event. I couldn't do it without the energetic assistance of Paddy Lynch and Lynn Wright and this year my friend and fellow felter, Pam MacGregor, came down to join us. Her beautiful felt teapots were a great addition to the booth. Now I need to get my class proposals in for next year...


Right on the heels of that came the Sugar Hollow Artisans Holiday Market. This was our third year and it was yet again more successful. Between 9 and 5 on the Saturday before Thanksgiving, eleven artists from just our little mountain top host hundreds of patrons, neighbors and happy customers. Each year this holiday craft fair gets bigger and better. This year I went through 60 sets of eco-printed coasters and took orders for more that were completed just before Christmas. 3-Season hiking hat also sold out; the addition of hand-tied fishing flies seemed to be popular. And then...it was time for baby knitting! Abby's baby will come along any time now and I wanted to have several items finished for her shower in early December. Willow became quite attached and I had to pry them away and re-wash them! How lucky to have two grandchildren in one year?!


Now, for the moment, it's quiet, or at least not as actively busy. I need to take this time to write up workshop and class proposals. work on plans for the next Local Cloth fashion show and get ready for teaching my class at Campbell Folk Art in early April. That one will be fun. I'll get some photos and a description up later this week. It would be great fun to have you join us!




---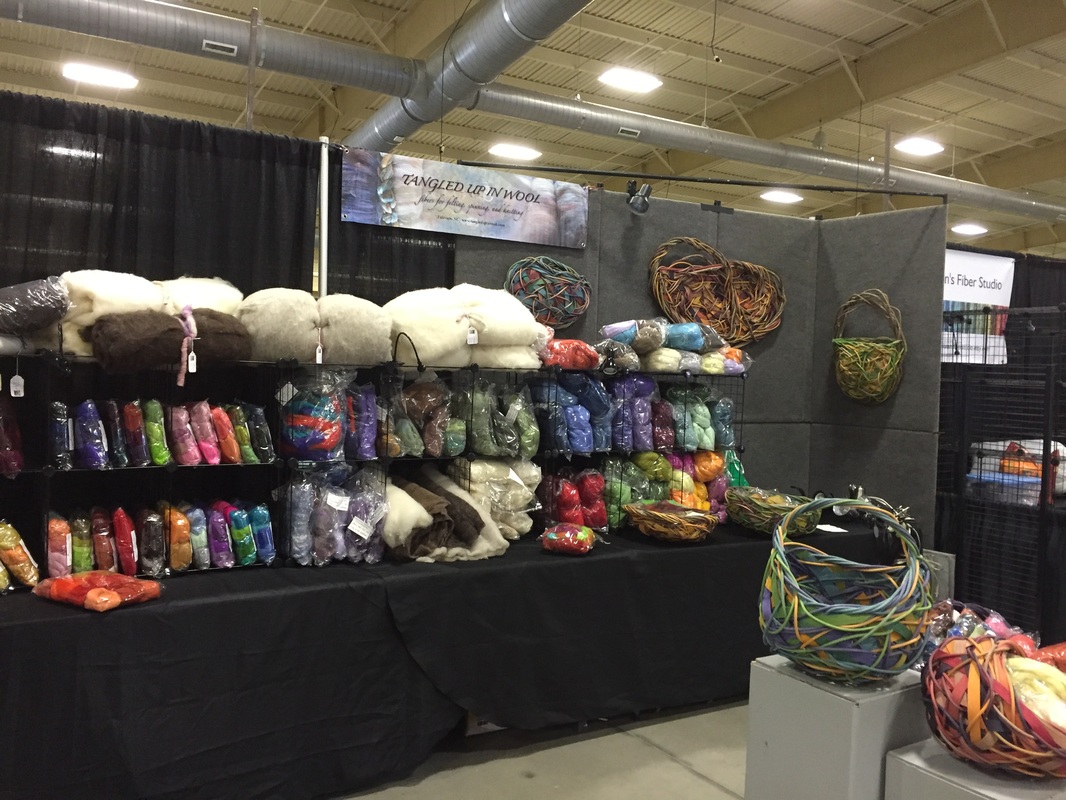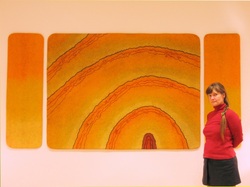 Amazing workshop opportunity, October 16,17,18! Karoliina Arvilommi and Roderick Welch live and work in a tiny village on the Finnish border with Russia. Karoliina has been a full time textile artist and a felt maker for more than 20 years, and recently has begun to teach classes about the techniques she has developed, and used during her professional life. Roderick Welch has a background in Arts, Crafts, and Three-dimensional Design. The felt works are strong in color, structure and design, thick and firmly felted to create a highly decorative and durable felt, using traditional 'Wet-felting' methods. Quality is the other important aspect and like all things in feltmaking, is "achieved by touch and intuition, not by formula."

It is my pleasure to host these two preeminent artists and teachers for a three day workshop here in the Asheville area on October 16, 17 and 18 . This is an opportunity to learn techniques that will have a profound impact on your ideas about felt design and offers a chance to work with beautiful hand-dyed Finn Landrace wool that is unsurpassed in quality and color. Class size is limited. For further information, contact Vicki@tangledupinwool.com


Cost of the workshop is 340.00 and the venue is the beautiful Spring Mountain Community Center, 8 miles south of Asheville. Come join us here in the Blue Ridge Mountains for 3 days of the best felting experience you will ever have! I have links to small cottage rentals at affordable prices right near the workshop site.


---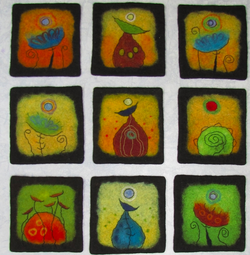 The workshop with Karoliina Arvilommi and Rod Welch here in the Asheville, NC area is almost full, several spaces remaining. The dates again are October 16, 17, 18 and we will be having it at the Spring Mountain Community Center, a beautiful spacious venue in Fairview , NC eight miles south of Asheville. If you are interested and haven't contacted me, please do as soon as possible. Thanks! vicki@tangledupinwool.com. More information about the workshop can be seen here:
http://woolpack.villivilla.com/workshops/
---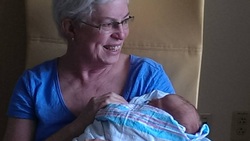 June 2015: Spring has come and nearly gone; we've welcomed in summer with a new grandchild. It is amazing how all consuming this new little life can be; every day we focus on the "baby du jour" photo and can barely turn attention elsewhere. We've been to Michigan to welcome him and I'll go again the beginning of July but first, a week long workshop at Shakerag in Sewanee, TN. I'll be back with my very first teacher, Akemi Cohen, learning Katazome with natural dyes on silk. As soon as I get back, summer heats up with some great mini workshops here at Tangled Up In Wool and I would love for you to join us at the beautiful mountain view home studio (air-conditioned) for some very cool workshops!



---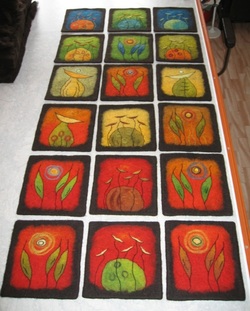 THREE DAY WORKSHOP WITH KAROLIINA ARVILOMMI AND RODERICK WELCH in beautiful Western North Carolina. October 16, 17, 18 2015. Fairview/Asheville NC.
I am delighted to be able to host Karoliina and Rod for this workshop, in western North Carolina. We have secured a beautiful mountain setting with large open spaces and plenty of elbow room. This 3 day workshop will be a slightly abbreviated version of their typical five day workshop; in referencing the website, you will see both the large wall rugs as well as the smaller works works which they will focus on here. I've had the pleasure of taking a workshop with Karoliina and Rod and it was one of the very best learning experiences I've ever had with clear helpful instruction, fine techniques and an opportunity to use the most beautiful wool imaginable. Karoliina and Rod travel from the far reaches of Finland, near the Russian border and will teach this year in the PNW, on the west coast and here in North Carolina.
Class size will be limited to 10 and registration is open. If you have interest, contact me as soon as possible to secure your space. vicki@tangledupinwool.com


In response to several requests for more information since posting the news about THREE DAY WORKSHOP WITH KAROLIINA ARVILOMMI AND RODERICK WELCH:
The workshop will take place at the Spring Mountain Community Center in Fairview, NC, about 8 miles south of downtown Asheville. The cost for the three day workshop will be 340.00 plus the cost of beautiful finn wool purchased from Karoliina and Rod (at very reasonable price/ounce). We will make arrangements to take orders for lunch from the nearby Amish bakery every day. Participants are responsible for making their own housing arrangements; Fairview has many lovely small cottages and guest houses available. Fairview has several excellent small restaurants and, of course, Asheville is foodie heaven. We are located very near the Folk Art Center on the Blue Ridge Parkway and the River Arts District in downtown Asheville. I will be gathering a list of housing resources and points of interest in the near future and sending them out in an email to interested people. And of course, that weekend in WNC is the most colorful weekend of the year! There is more information available about the workshop and wool used here: http://woolpack.villivilla.com/workshops/






---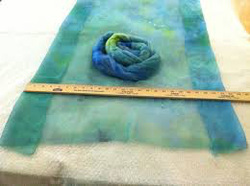 Monday, July 20: By request, a wet felt technique refresher (and beginner) one-day workshop! You took a class, you learned how to do it but have forgotten some or you just want to explore the art of wet-felting: this workshop is for you. We will cover several basic layout techniques, including nuno felt with silk and cotton gauze. We will spend some time going over "Will it felt?" "Can I add…?" "Does apple wool mix with orange wool?" and other mysteries of animal fiber and finish with some information about surface design. Students will complete samples and a simple felted bag or purse. This fun day is action packed and will include take-home handouts with detailed information and instruction. All materials included. 60.00. Class size is limited to 6. 10am-3pm, sack lunch. Home studio: 9 Heartsong Lane, Fairview, NC 28730. vicki@tangledupinwool.com to pre-register.


---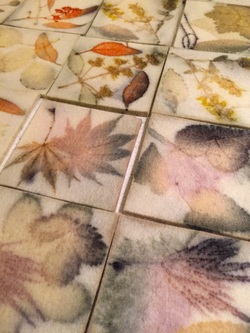 Thursday, July 23: An introduction to eco-print dyeing. Learn to print on fabric using leaves, flowers and other botanical materials. In this one day workshop, we will use plants from the garden and talk about mordants, how to bundle so prints come out clearly with best color and color shifting in the dye bath. Students will do three bundles, including one full length silk scarf. 60.00. 10am-3pm, sack lunch. to pre-register: vicki@tangledupiinwool.com


---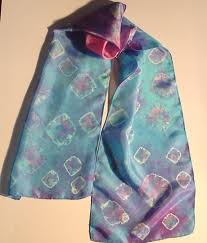 July 27: I'm very excited to have Marlene Glickman as my guest artist for a one day workshop in silk dyeing. Workshop includes dyeing 3 silk scarves using the instant setting, non-toxic Color Hue dyes. A variety of techniques will be demonstrated with students choosing the techniques they want to explore: baggie, floral images, zebra stripes or sunset lines, stencils, clamps and sticks or shapes, repeat shibori lines, stamps, growing trees and more. This class is a lot of fun and very rewarding as participants go home with lovely finished work as well as a great skill set to share with friends and family (including children!). More details about the workshop and a link to prepay are at
http://silkdyes.com/blog/workshop-events-calendar/
. The cost is 60.00 and all materials including 3 silk scarves are included. You may also pay the day of the workshop but you must email Marlene or me to reserve a space. Class size is limited to 10 and will meet from 10-3 with sake lunch. Workshop location is 9 Heartsong Lane, Fairview, NC 28730 and you can email me with any questions at vicki@tangledupinwool.com.
---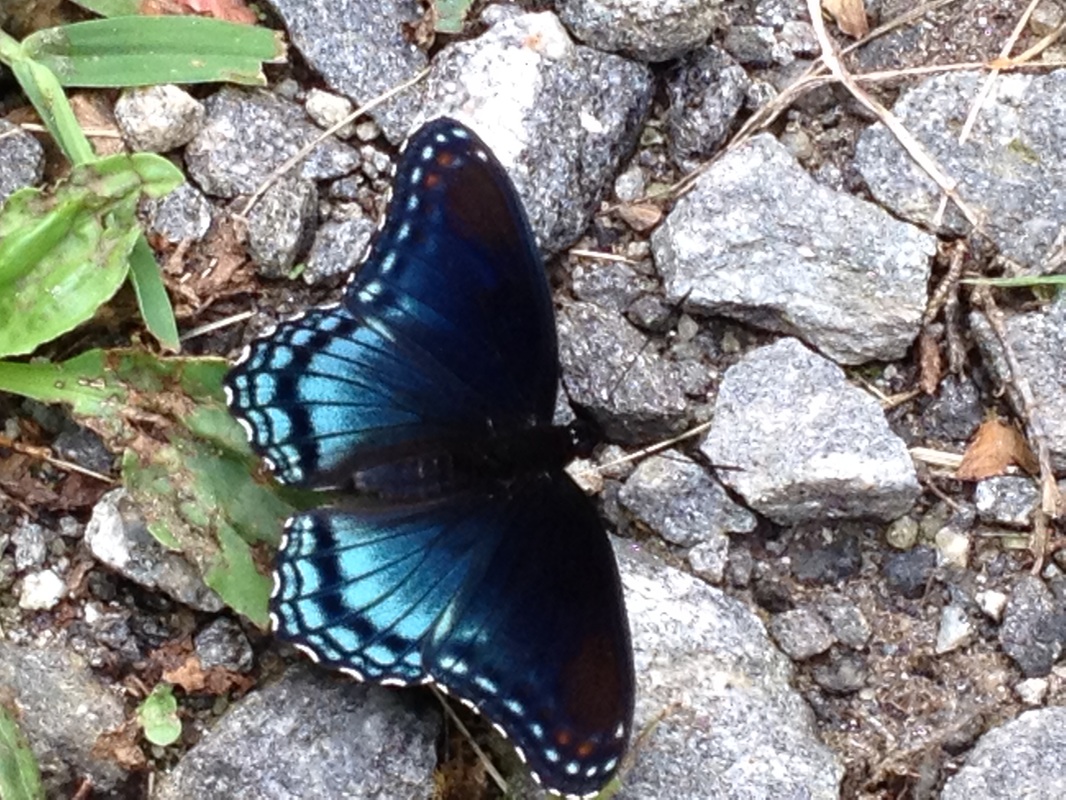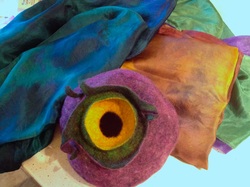 If you're near me here in Florida, I have some upcoming classes scheduled in February and March. Come join me for a day or a few days and get your felt on! Please send me an email if you want to reserve a space. I would love to have you join us!
February 18,19, 20
Wednesday, February 18: Eco-print dyeing! Learn the basics of creating botanical prints on fabric (wool and silk). This day long workshop offers you a chance to become familiar with simple mordanting (fabric preparation), native plant materials that are useful for eco-printing and bundling and steaming techniques. Participants will be able to complete a scarf and/or fabric yardage suitable for use in a fiber arts project. All plant materials, mordants and supplies will be provided.
Thursday, February 19: New Perspectives on Nuno Felt! Too many introductions to nuno felting leave students with an inadequate piece of felt that is not fully integrated enough to stand the test of time or wear. This day-long workshop will allow you to step up your game and nuno felt a scarf that is completely felted and yet still has the drape and flexibility that is so attractive to this fiber art. Participants will learn about and work with different fibers, studying staple length, crimp and micron count so that they better understand compatibility and blending.
Friday, February 20: Shibori techniques with wool, dyeing and surface design on felt. This day long workshop is an opportunity to add even more skills to your 2-dimensional felting repertoire. We will work to create interesting patterns and designs, using both natural dyes and commercial acid dyes on wool prefelt. The techniques for this day teach participants how to add surface design and manipulate wool felt through traditional folding and stitching techniques. Students will complete a lovely scarf and leave with lots of ideas for continuing projects.
Each of these one day workshops can stand alone and end with a completed project. The workshops are also sequenced so they can be used on a continuum to complete several projects using multiple approaches. For example, the eco-print scarf made on Wednesday will be ready to un-bundle and over-dye in an additional dye-bath on Friday, adding to your knowledge and use of natural dyes. Nuno felt made on Thursday can be stitched and dyed or simmered for a textured look on Friday. I will supply all materials for the three days but you are welcome to bring small pieces of natural fabrics to use-favorite bits of silk or handspun for nuno felting and dyeing.
Saturday, February 21, 9 AM until 4 PM
Felting is for the Birds! At
Fab Fiber in Gulfport.
Learn how to create a vessel or birdhouse using resists and wool. We will work on making a sturdy vessel with consistent and even sides. Layout techniques, blending wools and colors and felting smooth finished edges will all be practiced so that participants have a good foundation for three-dimensional wet felting.
Bring a lunch. Ice tea, cookies and fruit provided.
Participants should bring sharp sewing scissors, an apron or over shirt that can get wet and/or spotted and sandals or shoes with tread.
March 11, 13, 14 Three days of 3-D felt
March 11- Felting is for the Birds! Learn how to create a vessel or birdhouse using resists and wool. We will work on making a sturdy vessel with consistent and even sides. Layout techniques, blending wools and colors and felting smooth finished edges will all be practiced so that participants have a good foundation for three-dimensional wet felting.
March 13- Open studio day at Fab Fiber in Gulfport! We will have the space set up for both dyeing and felting.
http://fabfibergulfport.com/FabFibersGulfport/Calendar.html
March 14- Felt a Knitting Bag! At
Fab Fiber in Gulfport
In this day long workshop participants will felt a seamless project bag suitable for holding all of those works-in-progress or UFOs. We will use a resist to make a felted bag approximately 9 x11, finished size. (not knitted and felted- wet felted from wool fleece). You can add a pocket and do surface design using pieces of pre-felt, yarn, buttons- what ever you choose. The focus of the class will be on creating a truly durable and thick bag with consistent walls; no holes!
Workshop days run from 9-430 with an hour lunch break. Ice tea, cookies and fruit provided. Participants should bring sharp sewing scissors, an apron or over shirt that can get wet and/or spotted and sandals or shoes with tread. The cost of each workshop is 75.00 plus a 25.00 materials fee that includes all fiber and fabric necessary for the completion of one or two projects. Class size is limited to six.
---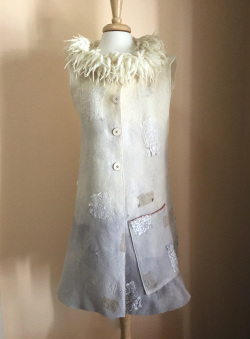 Next Up! Southeast Fiber Forum Conference, April 16-19 at Arrowmont School of Arts and Crafts.
This
is a wonderful event, beginning Thursday afternoon and ending after lunch on Sunday. There are really exceptional learning opportunities with great instructors. Nice people, beautiful venue and lots of good food and fun. There will be fine venders, a gallery show...it's one of the best retreats for fiber artists.
I'll be teaching a 2.5 day class called White on White, Colored Bright where we will use a wide array of wools and silks to felt a shawl and then dye it and see how the different fibers take the dyes differently. Questions? go here:
http://www.sefiberforum.org/referral.html or drop me an email. Or call me! 734-945-8118. It would be great to have you join us.
---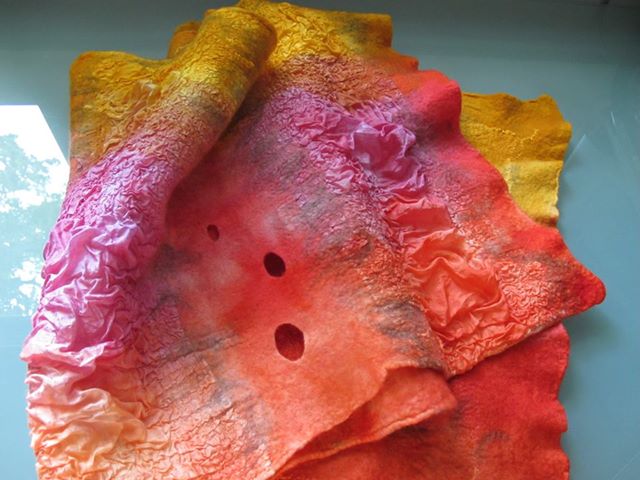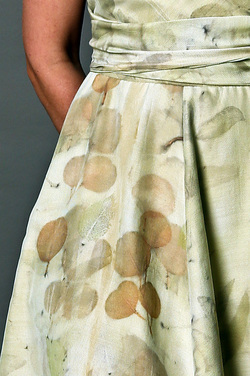 I'm late! I'm late! For a very important date!. ""("She generally gave herself very good advice, (though she very seldom followed it)." My constant advice is to keep this site more consistently updated. As always, I'm going to work on taking that advice! 2014 ended on a busy note and now I'm in Florida for January, February and March, catching my breath and organizing my fiber art year ahead. A few notes and images before moving forward.

Local Cloth sponsored the 2015 Project Handmade Fashion Show in September at Diana Wortham Theater in Asheville. That was a collaborative delight for me. With a theme of "Texture and Movement" I decided on a collection of four garments, "Moving Through The Seasons" Liz Spears and Elaine Zinn kindly worked with me, bringing their fiber arts skills in sewing and weaving. For the Spring and summer outfits I eco-printed the fabric and going forward, I will be teaching eco-print dyeing on wool and silk in workshops and classes. The fashion show was a great success with 27 participating artists from the WNC fibershed. Local Cloth: From farm to fiber to fashion!


---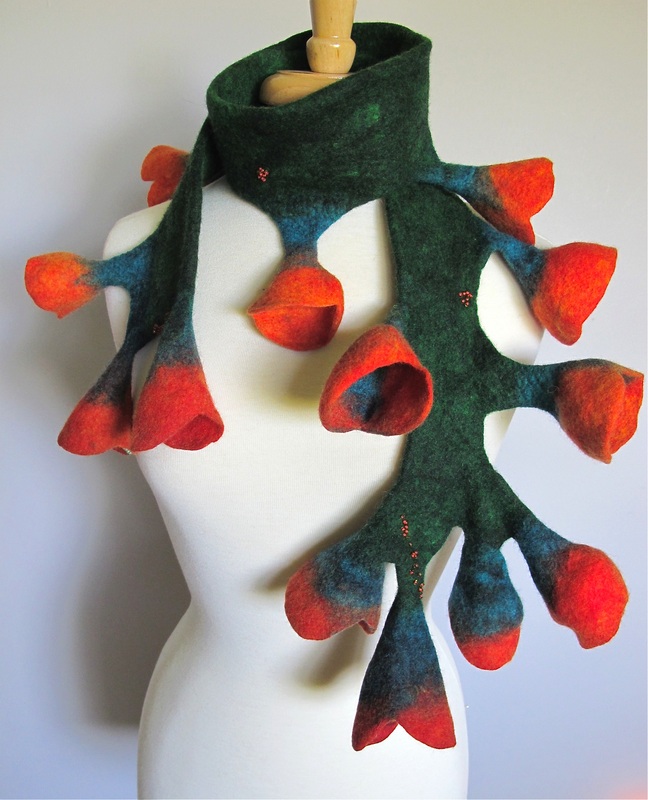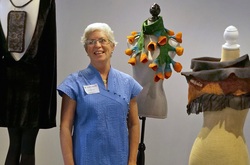 Summer of 2014 I took part in an exhibition at the Florida CraftArt Gallery: The Art of Adornment. It was fun being the only fiber artist in an exhibit of primarily jewel and metal artists. There were some really beautiful works of art there. I gave a short gallery talk at the exhibit and it always surprises me how many people are out there who are mystified by felt making; it's easy to assume that everyone is busy tangling up wool!
---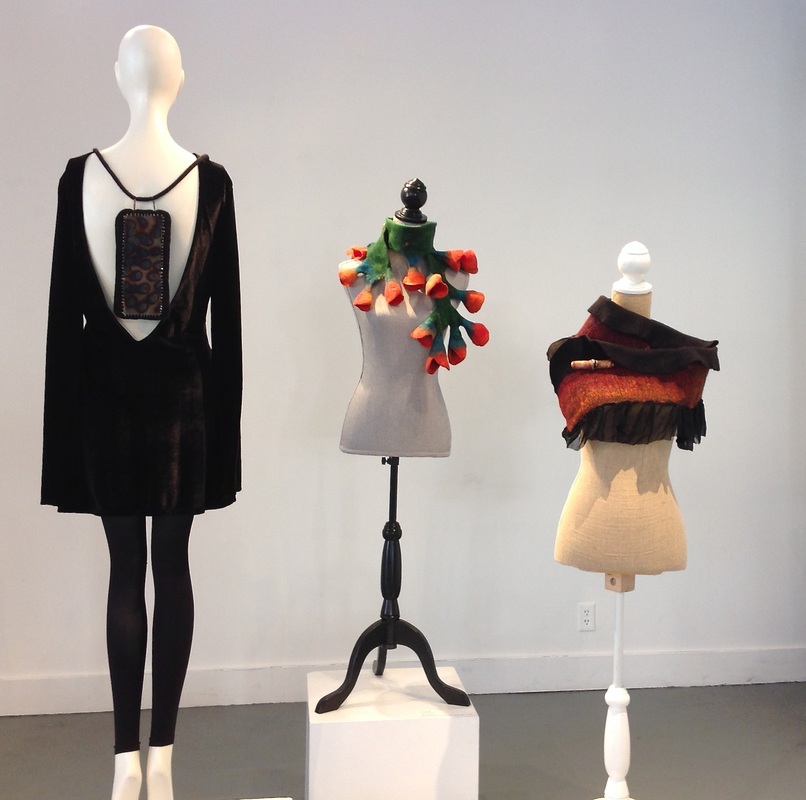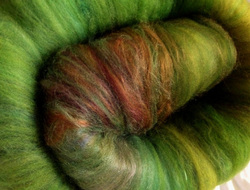 In October I was at SAFF and it's always great to see old friends, make new ones, teach classes and work in the booth. Tangled Up In Wool will be back this year, October 30, 31 and November 1 at the WNC Ag Center in Asheville. We will be in a new building and I'm looking forward to that. I will again be teaching and I'll keep you updated on specifics: promise!
---
Really? It's almost summer?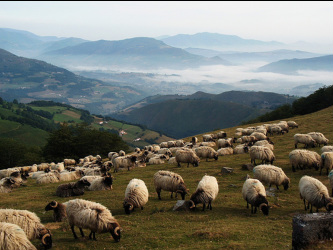 We've been so Tangled Up In Wool that, as usual, we're about a season short in updating the website. I say we. It's me. I'm the one who finds a hundred other things to do before getting around to here.
Since the last update, we made the transition back to the mountain in time to see the first breath of Spring and I never cease to be amazed as these mountains come alive and turn every possible shade of green punctuated with the glorious colors of azaleas and rhododendron. Add to that the rich browns and reds of the fields being tilled in the bottomlands and it's really quite breathtaking living here where we do.
In March we were in Sapphire for the Carolina Fiber Frolic and I've said it before and I'll say it again: Jan Smiley puts on a great fun weekend retreat and if you get the opportunity to go, either this Fall or next Spring, jump on it.
In April we went to the beautiful
Arrowmont School of Arts and Crafts
in Gatlinburg for the
Southeastern Fiber Forum
biennial meeting where I taught three dimensional felting and Kristen ran the TUIW booth. Paddy, our newest associate, served as assistant in my classroom. The fiber studio classroom was a teacher and a feltmaker's dream with so much space to spread out and all the equipment we would ever need. I loved dropping in on the other classes, making new friends, seeing familiar faces. I admit, I also really loved the giant tray of crisp bacon served up every morning. In fact, every single thing about the Arrowmont experience was so wonderful that I signed up to take a class in July on sculpting with wire mesh. I'm not sure how yet, but it looks as though it will "mesh" nicely with my felt work.
Last January I resolved that this was going to be a learning year as much as a teaching year for me so I'm also taking a natural dye week at
Shakerag
in Sewanee, TN and then in August, I'll be heading to Massachusetts to
Felter's Fling
. Aye, be still my heart! I will be learning from the best of the best in that week long adventure.
By the time I get home we wil be in the thick of the fiber season here in the Asheville area and looking forward to fall vending and teaching, with the
Southeastern Animal Fiber Fair
front and center October 25-27. See the listing below of other venues where you will find us during the upcoming months.
We're continuing to move towards an active online store for felters and spinners and we actually made the move to establish an Etsy shop (
TangledUpInWoolshop.etsy.com
) and oh, look! There's nothing in it yet! But yes, we do indeed have a full line of supplies, including our beautiful full line of 19 micron ultrafine merino and merino/silk blend, luscious natural finn landrace in 3 shades, soap, sprayers, nets and our utterly divine felting and spinning batts. I also happily custom dye silks and gauze for your nuno felting pleasure.
Enjoy the new slideshow, including photos from recent classes and events and stay in touch! Cheers, Vicki
January 18-20. Friends and Fiberworks Winter Retreat at Biltmore Square in Asheville.
https://friendsandfiberworks.com/events/winter-retreat/
3 Spectacular days of more than 35 Vendors and 70 classes! Lisa's retreats are always so much fun. I'm teaching A Simple Little Hat, Felt Collage and Silk Dyeing. I understand hats are in order right now in Asheville and this 3 season wonder is a lot of fun and gives you a chance to try your hand at dyeing wool prefelt as well. Kristen will be teaching a drop spindle class that gives you everything you need to create your own beautiful yarns and she has the patience of a saint so you really do get the individual attention you need to catch on to this skill- and once you have it, it's like riding a bike. Your own yarn forever. Together we will be vending again and you can find us, Tangled Up In Wool, in a booth right outside the Friends and Fiberworks Shop in the Mall. You can check the schedule here:
https://friendsandfiberworksregistration.com/secure/grouplistpublicR.asp
February 16-17: Two day felting intensive. Durable Wool Felt with Contemporary Design. This two day workshop will offer participants the opportunity to work with large batts of Finn wool, natural and dyed colors, to create a piece or art approximately 24 x 24. I've chosen the fleeces and had them processed at Echoview Fiber Mill in Weaverville, NC. The end product will be a thick sturdy piece with very precise design work, suitable for wall or interior design. The skills learned in this workshop will have broad application to continuing felt work: layout, shingling, translating your design from drawing to wool, clearly defined borders, durable finish techniques. Held in St. Petersburg, details TBA. Please email me on this one asap, class size limited to six. Several people have expressed interest in this weekend and if you are traveling from a distance and staying over I can tack on a Friday or Monday additional day in nuno felting using prefelts, scissor cut designs and silk.
March 22-24: Carolina Fiber Frolic, Sapphire North Carolina. Jan Smiley really knows how to host a great weekend retreat- it feels more like one big wooly party. I will be teaching a vessel class, hat class and dyeing this weekend and Kristen is teaching her drop spindle class. It's hard to believe but you come away from that with everything you need to create your own beautiful yarns from fleece. Jan will have registration up shortly. The retreat setting is incredibly beautiful, the catered meals excellent and all you need to do is take classes, break to eat, laugh, learn and wait for the evening happy hour. And she keeps it very affordable, too! I'll post details as soon as I get them (Jan...)
April 4-7: Southeast Fiber Forum at Arrowmont!
http://sefiberforum.org/maurice/index.html
THIS will be a wonderful opportunity to learn from some of the finest fiber artists in the Southeast. Four days at Arrowmont Craft Center at the entrance to the beautiful Smokey Mtn. National Park in Gatlinburg, TN, classes are offered in weaving, spinning, garment construction, felting and dyeing. I highly encourage you to go to the link, explore and sign up! I will be there teaching 3-dimensional felt construction and Tangled Up In Wool will also be vending. We've been fortunate to be asked to supply the forum's logo colors in merino top and drum carded batts and Kristen and I are delighted to be working in their colorways: blackberry, melon, ivy, taupe. Drop me a line if you're interested and I'll also post a link to the order page once it's up in a few days.
Beginning May 1st: Open studio resumes in Fairview, a quick 8 mile hop down the road from Asheville. Further details TBA.
June 14-16 Friends and Fiber Works Summer Retreat, Biltmore Square Mall
As the year progresses, I will continue to offer more workshop listings for summer, fall going into winter and of course, we will again be at SAFF.
http://www.saffsite.org/
We are stepping up our online sales this year and you can get just about all of your felting supplies and materials from us at
tangledupinwool.com
. Specializing in beautiful Finn wool batts and top, 19 micron merino top in 80 colors, silks for nuno felting including beautiful rust and resist dyed panels 22 x 90 inches of deliciously fine paj silk and dyed tussah silk. We are carrying ball sprayers, the ultimate felter's tool, for 24.00 (22.00 at workshops) as well as felting matts, resist material and pure Greek olive oil soap. Best of all we offer custom carded wool batts of the finest quality, guaranteed to felt and spin beautifully. You can order in colorways of your choice or find hundreds to choose from from our booth at vending events. E-mail us; we make it a pleasant, fast and easy transaction.
Be in touch and let me know what you've been working on. If you have interest in private instruction or questions about a specific project, drop me a note. I look forward to seeing you, working with you and being inspired by you throughout the coming months.
Cheers, Vicki
vicki@tangledupinwool.com
---
'Tis the Season!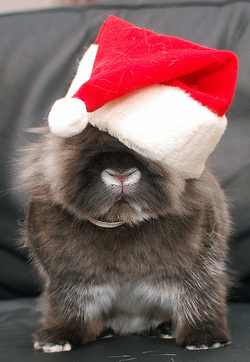 I had an old friend who would always write, "Rabbit, rabbit!" on my weblog on the first of each month; it was supposed to bring you good luck all month. So Rabbit Rabbit to you and may this month, in particular, be filled with joy and peace , hope and love and many bright shiny lights!

As the holiday season begins, we are going to begin our online sales here at Tangled Up In Wool. I have so many students looking for quality fibers and supplies and so many requests for handmade felt items that the time seems right. Browse and enjoy and just send me an e-mail with your requests. I answer all e-mails promptly (unlike updating the website!) and I'll answer any questions, send you a Paypal invoice and make your transaction a pleasant one.
---
Felt Christmas Trees!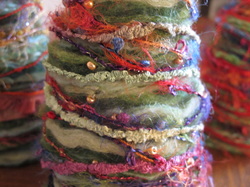 I'll admit right up front, these lovely felt Christmas trees are kind of like silk purses from sows ears. Like most fiber artists there are always those projects that just don't go according to plan and the result is a rubbermaid tub full of felted fiber that remains UFOs. Since I like to work in greens, it occurred to me that there was a lot of really beautiful merino and silk yardage just waiting for new life. These trees offer a gentle recycled reflection of the nature of the season. They are all hand felted, cut, sewn and trimmed with art yarn and unique torch fired glass beads at the top. Each one is different and they range in size from 3 inches to 10 inches. Priced 8.00-30.00, 40.00 for a set of three. Email for preferences and I'll send additional photos on request.
---
One of a kind felt brooch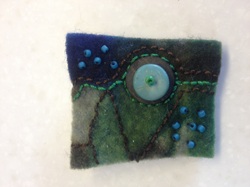 These beautiful felt brooches make a wonderful one-of-a-kind gift for that special friend, sister, mother. Friend and fellow feltmaker Paddy Lynch has painstakingly resist dyed hand made pieces of felt and then stitched and beaded them to perfection. 1.5-2 inches, they are precisely right for any ocassion. 25.00 each.
---
Snow people unite!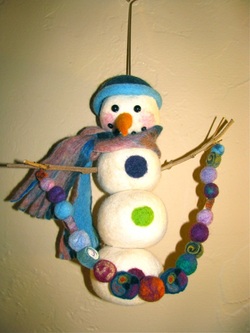 I'm spending my time in warmer climes but when my parents retired they moved to the tip of the Keweenaw Peninsula in the U.P. of Michigan where they got as much as 330 inches of lake effect snow each year. The house would be buried! While there, they worked very hard to champion the environment and now my daughter is hard at work on her PhD with a focus on environmental preservation of the world's oceans.
So. Here we have these snow people that are made with love and frustration. They are time consuming and detailed with unique silk and merino scarves and hats, holding a string of festive holiday felt geodes. I resist making them and then, once I settle to the task, I get into their rosy cheeks and carrot noses. They stand about 10 inches tall. But they are a favorite among my friends and felt fans so here's the deal: I'm making about 6 more this season. They need to be ordered by Dec. 10, they'll be to you by the 15th. They are 45.00 and of that, I will donate 50% to
EarthIsland Org
,
---
The now famous 3-season wool felt hat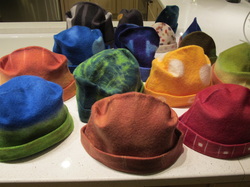 These are, heads down, the single best felt hat you'll ever own. They are very lightweight yet cozy and warm, incredibly soft and skin friendly with ultrafine merino wool and delightfully colored to your specifications. They are warm, they mold to your head, they stuff in your pocket, they fit under your bike helmet, they make a fashion statement on any trek out into the world. They rinse out with a light gentle wash and reshape perfectly. Could you ever ask for more from your hat? I hand felt and dye these after you send me an e-mail with color choice and head size. I make them from preemie to large. I'm proud of these simple little hats. I wear mine every single day. They are 32.00 with free shipping this month only.
---
Superfine Italian Merino Top!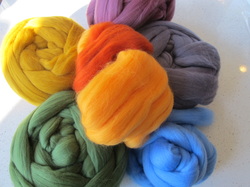 I'm going to be using this merino top exclusively for my own merino felt work and I'll be making it available to all of my students. This beautiful line of merino, at 19 microns, is the loveliest I've ever worked with; it felts easily and has a lovely drape when worked into scarves and other wearable felt. The colors are absolutely vibrant and delicious and dye fast. I've made a dozen commissioned birdhouses with it this season and it has a smooth, sueded finish when used in 3-dimensional work. See below for available colors and also a photo of how beautifully this "pulls" for layout. 3.00/ounce and free shipping. (Now that's a deal!)
---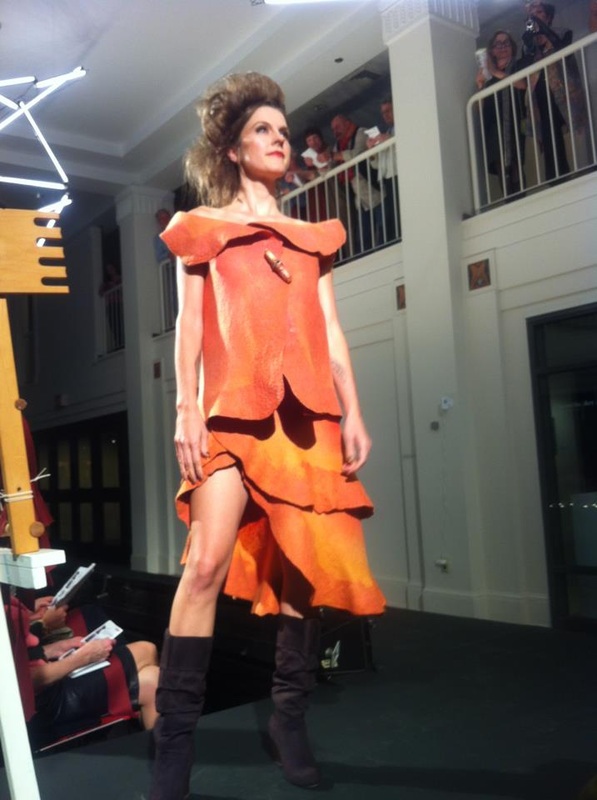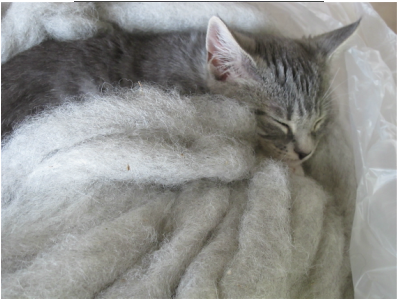 Welcome! Thank you for visiting the website. It is designed for feltmakers and fiber artists and perhaps those who were magpies or bowerbirds in a previous lifetime. Here you will find beautiful natural fiber items, artistic and functional, as well as supplies for your own creative endeavors with links to classes and workshops.

Look around and find new wools, fiber news and of course, new little video bits. Stay, look around, say hello, join a class, shop. And come back often!



April 4-7, 2013 Southeast Fiber Forum 2013 Fiber Fest, Arrowmont, Gatlinburg, TN. http://sefiberforum.org/maurice/trial_index.html



---